Home
Music is a moral law. It gives soul to the universe, wings to the mind, flight to the imagination, a charm to sadness, and life to everything.
-Plato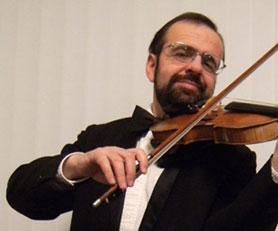 G
regory Gershteyn is a professional violinist who lives and works in Colorado Springs. One of the city's most popular strolling violinists, Gregory has many years of experience playing at weddings, parties, receptions, and other occasions! He is available as a soloist or with a larger ensemble.
A
s a true professional, Gregory can play in many different styles. He can play a large repertoire of music from memory, making him an ideal strolling violinist. Do you need a duo, trio, quartet, or something else? Gregory can make it happen! Gregory is also available to travel to Denver, Pueblo, and other Colorado locations. Contact Gregory to inquire about rates and availability.
T
o see Gregory playing, check out the media section of this website!
Contact Information
Gregory Gershteyn
gregvl<AT>gmail<DOT>com
(719) 633-6588
If you want Gregory to play at the Broadmoor, contact:
Ken Miller Entertainment Inc
(719) 388-8953