About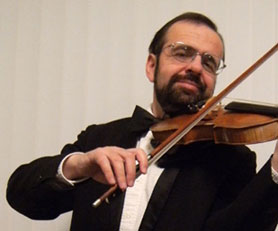 G
regory Gershteyn is a professional violinist with a long and distinguished career. He currently plays for the Colorado Springs Philharmonic Orchestra. Gregory is also one of the most popular freelance violinists in the Colorado Springs area.
G
regory was born in Belarus, a nation that was then part of the USSR. When he was 7 years old, Gregory began attending a school specializing in music where he studied the violin. Gregory went on to attend the Byelorussian State Conservatory, where he continued to study violin with professor Roman Nodel.
I
n 1979 Gregory graduated from the conservatory and won an audition for the State Academic Symphony Orchestra of Belarus, where he worked until 1989. In 1989 Gregory left the USSR and moved to the United States of America.
I
n 1993 Gregory won an audition with the Colorado Springs Symphony Orchestra (now the Colorado Springs Philharmonic Orchestra), where he currently works.